Want to know when you really fucked up? When you are labeled as a "Serial Cheater" and share a similar title as a "Serial Killer." Tiger Woods is many things, but one thing he certainly isn't is a prude sober. He has confessed to sleeping with over 120 women. The most impressive part of this is that Tiger had more mistresses (15) than major titles (14). Full list of 15 side pieces.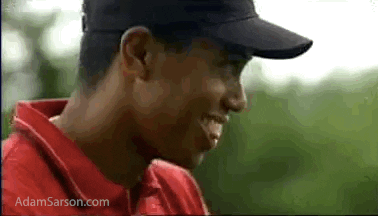 I find this very, very interesting. 15 side chicks, 14 major titles, hmmm. I'm not completely sold that Tiger didn't strategically plan to have this many side biscuits. He is way too competitive and fucking weird for this not to be some sort of irony. Just like how Joe Girardi switched his number from No. 27 to 28 as a reminder to try to win No. 28 for the Yankees. His side slam pieces were a reminder of reaching his goals and to keep moving forward. Just like when Girardi said, "That's the message, we're not complacent." It makes sense. I mean would you really be surprised if that was Tiger's reasoning? Not even a little bit. I mean that is the only reasonable explanation for this perverted looney tune. I don't know how the headline when this first came out, 'Tiger Woods, the second most accomplished golfer ever with 14- major victories (behind Jack Nicklaus' 18) falls one shot behind and has more mistresses than major titles'. WHAT A HEART BREAK. I mean are we sure that he didn't have any dude side pieces? Honestly, the more I learn about Tiger and him being a sex addict, I wouldn't rule out that he banged a dude or two. I can see Tiger Woods bangin' some caddy dude on a tee box. Just for the hell of it. "You don't like me? Alright, I'm going to bang you." It all makes sense.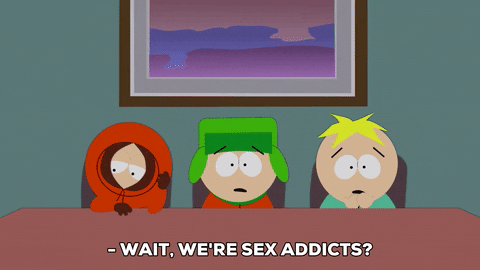 Also, how they hell do manage to have all those different flings while being married and not only playing on the tour, but dominating? I'm sure you have heard crazy stories of pro athletes having a slam piece in every town, Tiger literally did that. All while being married and having 2 kids. He had mistresses that ranged from waitresses, to the daughter of his neighbors to multiple fucking porn stars. Dude, I didn't even know the term "Serial Cheater" existed, it just means you are just a lying sack of fuckboy shit.
"Tiger's ex-wife thought there was another woman, maybe two. Nordegren — along with the rest of the world — had no idea." 
I want to point out one thing about Tiger's now ex-wife Ellin Nordegren, how fucking dumb and gullible are you? It wasn't just like one or two flings, 15 fucking ladies came crawling out with proof about cat daddying with your man. Your perverted, sex addict husband was banging everything and anything that moved, how did you not pick up on that? HOLD IT RIGHT THERE, YOU CAN'T FOOL. She pulled off one of the biggest and largest highway robberies of all time. I'm not convinced she didn't know, I think she was just waiting for the perfect time and then bang she gets a huge divorce pay out. Tiger's ex-wife Nordegren was awarded $100million in her divorce settlement, a portion of Tiger's estimated $1billion. I mean look at her, she knew EXACTLY what she was doing.
Let's have a quick recap of how this all went down and have a look into how much of a prick Tiger Woods is. Remember when Tiger Woods was the best athlete in the world? He has been named "Athlete of the Decade" by the Associated Press in December 2009. He has been named AP Male Athlete of the Year a record-tying four times, and is the only person to be named Sports Illustrated's Sportsman of the Year more than once. Woods' was the big dick swinger in a sport that was full of lame-o nerds. But Woods' legendary toughness and big dick attitude vanished when being a sex addict became public in 2009.
That Thanksgiving, Tiger Woods' wife, Elin Nordegren, chased him out of the house with a golf club after learning he'd been unfaithful.
Which led to him getting crashing his car, falling out of the car laying on the street and then did the most Tiger thing of all time, HE FELL ASLEEP. (Tiger suffers from insomnia took a bunch of sleeping pills earlier that night, but it's more classic if I left that out.)
Even though I think the ex- wife Nordegren planned this all out to get a pay out, she was going to stay with Tiger. Even after Woods reportedly confessed to sleeping with 120 women, Nordegren said she remained on the fence about leaving him until April 2010, when a 15th mistress was revealed. Her name was Raychel Coudriet. She was a daughter of the couple next door and first met Woods when she was only 14. Tiger dude, so not cool, man.
Tiger Woods' former swing coach Hank Haney paints the golfer as a porn-loving, cheap, rude superstar who was upset when his own wife would smile on the golf course. What a fucking asshole.
I've never heard of a person who thought they were more entitled than Tiger. For example, Woods would finish his dinner at a restaurant — even when he was with his wife, Elin — he'd get up, leave without a word and expect everyone to follow, even if they were still eating.
"When he was done — and he habitually ate fast — you were done," Haney recalls.
Tiger thought he was the king jock in the sport that was full of nerd. He was mean-spirited dickhead especially when it came to rival golfer Phil Mickelson. Woods would call him lazy and "make fun of his body."
Once Tiger got exposed, all his side pieces came to public about how much of a sex demon he was. Pornstar Joslyn James, who claims she had a three-year affair with the disgraced golfer, made the 'sexts' public,
'I would wear you out,' Woods allegedly boasted in one text dated August 29. 'I want to treat you rough. Throw you around, spank and slap you,' James said he wrote in another message the same day.
Take it down a few notches Tiger, you're freaking us all out. Another mistress named, Jamie claims she and Tiger had sex the night his father died. Throw in another pornstar, Holly Sampson recorded a video in May at the porn site Naughty America in which she says she slept with Tiger Woods at "a bachelor party for" him. Yeah that's tight Tiger. Another was New York City nightclub hostess named Rachel Uchitel. She was photographed checking into the same hotel as Woods during the Australian Masters and later claimed they were in love. YEAH OKAY LADY. A Los Angeles cocktail waitress claims she had a 31-month long affair with Woods. The woman, Jaimee Grubbs, says she has proof in 300 text messages and claims she first met Woods the week after the 2007 Masters, two months before Tigers wife gave birth to their first child. She also released a voicemail Woods left on her phone.
YOOO TIGER CALM THE FUCK DOWN DUDE.
Also, the excuse of being a sex addict and going to therapy for 'sex addiction' is a bunch of bullshit. He probably went in there trying to scout some ladies out. It's not heroin Tiger, just don't go around slipping your nerd ass meat wrench in anything that walks.
Some of the best Tiger stories are about how cheap he was. You would think have $1 billion you have some spending freedom, just a little. Tiger was so cheap with his ladies that the most he ever bought his side chicks were one thing: a chicken wrap from Subway. That's kinda classic.
The biggest sex scandal ever came from GOLF. YEAH GOLF.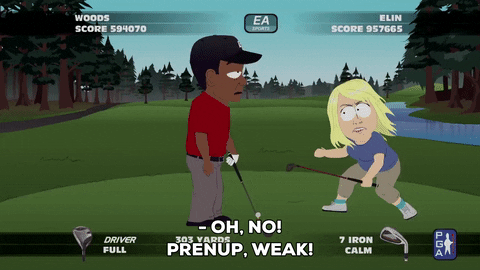 KNIGHTHAWK OUT.