Most Valuable Player
James Harden (55 wins/ 29.1 PPG/ 11.2 APG/ 8.1 RPG/ 1.5 STL/ 44% FG)
Russell Westbrook (47 wins/ 31.6 PPG/ 10.4 APG/ 10.7 RPG/ 1.6 STL/ 43% FG)
LeBron James (51 wins/ 26.4 PPG/ 8.7 APG/ 8.6 RPG/ 1.2 STL/ 55% FG)
Listen, I fully expect Westbrook to actually win the MVP, but I just don't believe he was the most valuable player. Every year I get pissed off debating the Most VALUABLE Player. The award isn't the Most OUTSTANDING Player, it's which player is the most valuable in the league. If it was the Most Outstanding Player, then by all means give the award to Westbrook. He has had a legendary season. But the Most Valuable Player this year was James Harden.
James Harden, The Beard 
Harden is contributing 56.4 points per game through passing and scoring, which is the most of any player in history. The Rockets' offense this season, one of the 10 best in NBA history, has involved nearly every type of scoring. The Beard has been at the center of the team's fearsome attack, distributing the ball to his teammate in devastating fashion all season.
Harden owns the highest win-share total in basketball this season. He has played such a pivotal role in making his teammates better. Harden will become one of the first guards in history to average 29 points or more on 20 shots or less. Harden is generating a league high 27 points from assist per night. This sort of efficient scoring and passing combination is something we've rarely, if ever, seen. (He broke Steve Nash's record for the number of 3s a player has assisted in a season, which was 285, according to ESPN Stats & Information Group. Harden currently has 361.)
He made his team better which resulted in more WINS. Also, the Rockets won the season series 3-1 against the Thunder. He elevated his game to a legendary level and made every single player on that roster better. Harden's personal efficiency, and the efficiency he draws out of his Rockets teammates is why he deserves to win his first MVP award.
Russell Westbrook
It's tough not giving the MVP to Westbrook. Especially since Westbrook is one of my favorite players in the League. He has a bulldog mentality and he wants your blood. He went out this year on a mission. When I saw him play at the Garden vs the Knicks he almost had a triple double at half time and he just simply wanted it more than anyone else on the court. He went hard every single minute he was on the floor. What he is doing this year is inspiring.
With that being said, I felt like Westbrook trying to do it all hurt his team. For example, the Thunders chances of winning are almost the same when he gets a double- double in assists and points as when he gets a triple- double. When he reaches 10 or more rebounds without getting a dime's worth of dimes, the team is only 3-8 and their winning percentage is less than half of what it normally is. All of this indicates that while his passing has a big impact on the Thunder winning, his rebounding doesn't have nearly as much.
Oklahoma City is sixth in the league in "Deferred Rebound Chances," which means that there are two or more players from the same team who can get the rebound, but one teammate just yields to another. By the same token, Westbrook is leading the NBA in uncontested rebounds at 8.6, while only 2.1 of his rebounds are contested. Westbrook's 20.1 contested rebound percentage is the lowest in the league for any player averaging seven or more boards per game. Additionally, he's deferring on just 1.9 of his rebound chances.
LeBron James, The King
King James is on track to become the first player to average at least 26 points, eight rebounds and eight assists per game while shooting better than 54% from the field. That is crazy. LeBron is a 6'8 point guard than can guard positions 1 through 5 at an extremely high level. He makes every single player around him significantly better.
We take Lebron's greatness for granted. If the award was based on purely what player is most valuable in the league, LeBron James would win every single year except this year. LeBron shot 55% from the field while putting up arguably his best statistical year of his career in his 13th year. He has been an absolute force in the NBA since he stepped in as an 18 year old.
However, LeBron cruises through the regular season and turns it up to another level during the playoffs. He also rested games, which stirred up quite the controversy. I personally I have no problem with him resting (except if I bought tickets to see him play) because he has been to the finals nearly every year and has played more minutes than anyone else in the league over the last 13 years.
Any LeBron haters out there, just look at his career playoff stats; they are absurd. He single-handed brought the Cavs to the Finals before leaving for the Heat and then the Cavs were the worst team in the league the following year. That just shows his value.
Defensive Player of the Year
Rudy Gobert
Draymond Green
Kawhi Leonard
The Jazz allow the fewest points, and Gobert is at the center of that. He leads the NBA in blocks (2.7 PG) and defensive win shares (6.0). Players shoot just 55.8 percent against him in the restricted area, which leads all centers.
Gobert is impenetrable (prude sober); opponents hit just 43 percent of shots at the rim with the his French ass lurking around. Second- toughest amount current rotation players who defended at least four shots per game. He is long and speedy enough in tight spaces to guard pick-and-rolls almost by himself. Where most big men become prey, Gobert is a predator. That sounds like a sex offender, but that's exactly what he is, A PREDATOR.
The ripple effects from that are enormous. They define the structure of Utah's defense, third-best in the league. Defenders flanking the central action stay home on shooters; only Miami allowed fewer 3-pointers, and no team yields a lower share of juicy corner 3s. They are one team with Gobert, another team without him. Utah allows eight fewer points per 100 possessions with Gobert on the floor.
I think Draymond Green is a scumbag, but he is a hell of a defender. Defensive is all heart and hustle. Green is matchup-proof. He can be anywhere, anytime. He contested seven shots at the rim per game, as many as DeAndre Jordan, Anthony Davis, and Andre Drummond. Opponents hit just 43.8 percent of those shots, barely above Gobert's equivalent figure.
SIXTH MAN OF THE YEAR
Eric Gordon
Andre Iguodala
Jamal Crawford
Eric Gordon's case is as follows. For everything Harden has given the Rockets in an MVP-worthy campaign, they couldn't have had the season they did without Gordon's long-awaited resurgence. Gordon burst out of the gates, shooting 43 percent from deep combined over November and December before cooling a bit after. Gordon is the first player in league history to hit 200-plus triples as a sub and cementing his place as an integral part of the most prolific 3-point shooting team this league has ever witnessed. He also logged about 300 more minutes than Iguodala. Gordon is the second-leading scorer on the league's third-winningest team. Need I say more?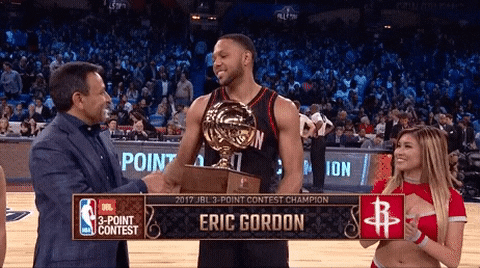 Instead of leaving boring videos of Gordon hitting 3's or Iguodala playing D, here is some highlights of my favorite player:
Most Improved Player
Giannis Antetokounmpo 
Nikola Jokic
Bradley Beal
Giannis Antetokounmpo, The Greek Freak 
The Greek Freak was good last year, but this year he absolutely balled out. He established himself as one of the top 10 players in the league this year in my opinion.
Dude he's literally a FREAK! Antetokounmpo's PER jumped by more than seven points, which is astounding even with an accompanying increase of nearly six percent in usage. He distinguishes himself from Jokic by holding opponents 3.4 percent below their season average. And his true shooting has jumped from 57 percent to nearly 61 percent while he's added a rebound, half a steal, half a block and a full assist per 36. To be an NBA fan right now is like watching the night sky come alive with new stars forming new constellations. Giannis is the latest iteration of something the NBA seems to continuously gift us with … something we've never seen before. Needless to say, Antetokounmpo has a very strong case for this year's Most Improved Player award.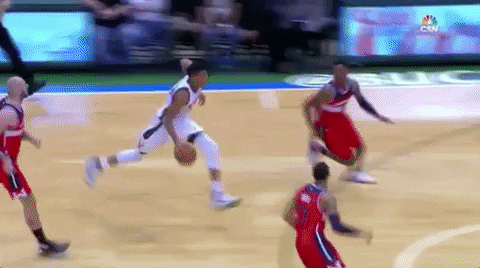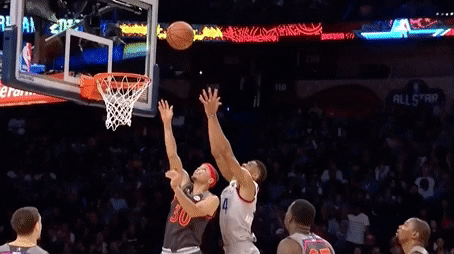 Bradley Beal
Just check out my boy Beal's improvement over the last 3 years. Also, I have a Bradley Beal bobble head. SWAG.
Honorable Mention:
Otto Porter has turned into one of the best role players in the league. Behind the arc he is a stud. But, his defense still needs some improvement…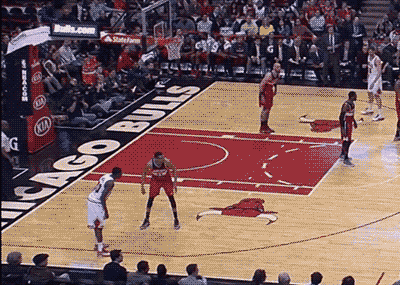 Rookie of the Year
Malcolm Brogdon: (74 GP, 10.2 PPG, 4.2 APG, 2.8 RPG, 1.1 SPG)
Dario Saric: (81 GP, 12.8 PPG, 6.3 RPG, 2.2 APG, 0.7 SPG)
Buddy Hield
First things first, the best rookie by far is Joel "Trust the Process" Embiid.
But homeboy is the new Greg Oden and can't stay healthy.
This has been a weak rookie class. I expected Brandon Ingram to throw up 20 points a game, but he is still 2 years away from that because he isn't quite strong enough. Saric might be the more popular choice, but ignoring what Brogdon has done for a winning team would be shortsighted.
True enough, Saric has the statistical advantage when you take a look at the raw numbers:
Saric:  81 GP, 12.8 PPG, 6.3 RPG, 2.2 APG, 0.7 SPG
Brogdon:  74 GP, 10.2 PPG, 4.2 APG, 2.8 RPG, 1.1 SPG
Because as much as these basic stat lines lean in Saric's favor, Brogdon has been far more efficient from the field (45.6 percent to 41.1 percent), three-point line (40.3 percent to 31.1 percent) and the foul line (86.5 percent to 78.2 percent).Brogdon also has a higher Player Efficiency Rating and has legitimately stepped up for a Milwaukee Bucks team that earned the sixth seed in the Eastern Conference.
If this was a question of who would have a better career then by all means I'm all aboard the Saric ship, but this year he was mediocre at best. However, selecting Malcolm Brogdon would mean the lowest scoring average in NBA history for a Rookie of the Year winner. Even though Brogdon was more efficient, I think he stinks and will be irrelevant next year once Jabari Parker is back. However, hands down he was the most effective rookie and deserves rookie of the year.
Coach of the Year
Mike D'Antoni
Erik Spoelstra
Scott Brooks
Mike D'Antoni
The Houston Rockets finished the 2016-2017 regular season with 55 wins, good for the third best overall record in the NBA. His signature up-tempo system unleashed one of the most dynamic offensive seasons in NBA history. The Rockets broke the single season record for most 3-point field goals made with 1,181. The Rockets also ranked in the top 3 in the NBA in offensive efficiency rating, effective field goal percentage and pace of play. Under D'Antoni, James Harden thrived as a full-time point guard and quickly elevated his game and that of his teammates.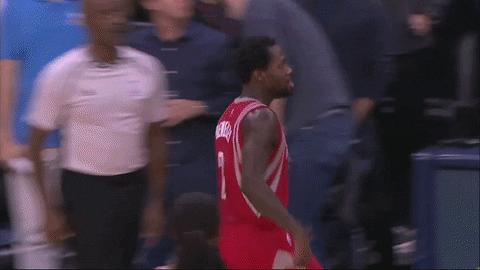 Erik Spoelstra
The Miami Heat finished the 2016-2017 regular season with 41 wins and a tie for 8th place in the Eastern Conference, missing the playoffs on a tie-breaker with the Chicago Bulls. He led the Heat to the biggest first half/second half turnaround in league history. The Heat were 11-30 at the mid-point mark and Spoelstra led the Heat to a 30-11 slate to finish out the season. And this was accomplished despite the Heat suffering through an injury-plagued season, one in which the Heat lost 328 player games due to injury or illness, the most in the NBA last season.  Spoelstra's adaptability and tutelage led to career years for Hassan Whiteside, Tyler Johnson, Wayne Ellington, Dion Waiters and James Johnson. KNIGHTHAWK OUT.